Knee Pain
Like any part of the body, the knee is complex with many parts. It is made up of bone, meniscus, cartilage, tendons and muscles all working together. When something goes wrong, knee pain can be very debilitating. Fortunately, Click Physiotherapy specialises in the treatment of knee conditions.
What are some knee injuries?
The structures injured during knee pain often depends on the mechanism of injury. Some knee injuries are more likely to affect younger population, these include:
-Patellofemoral pain (pain behind the kneecap)
-Patella dislocations
-Meniscal injuries
-Sprains to the supporting ligaments including ACL, MCL and LCL
-Tendon problems (we call these tendinopathies)
The older population can be inflicted with other conditions such as:
-Knee osteoarthritis (medial, lateral, or patellofemoral)
-Bakers Cyst's
-Meniscal tears due to degeneration
-bone bruising
What conditions can be treated?
Most knee injuries will respond very well to conservative treatment. As such, a trial of conservative management is generally recommended after an acute injury. There are certain conditions that may need surgical or medical input. Rest assured, if we are suspicious of anything that will not respond to treatment, we will refer you to another medical professional.
Some things to look out for after an acute injury are;
-Inability to walk on the knee
-Massive swelling
-Any locking or giving way of the knee
If you have any of these symptoms it is advisable to see your GP for possible imaging.
How is knee pain diagnosed at Click Physiotherapy?
Before treating your condition, we need to be certain of the diagnoses. To do this well, a thorough interview will take place via video conferencing. We cover in detail what happened at the time of injury, aggravating factors, medications, and any other factors that may help us. This can often take 15-20 minutes. A diagnosis for your knee pain is often formulated in this interview, and then either confirmed or negated with a physical examination.
The examination will begin by observing factors like posture, gait and functional tests such as squats or stairs. As our service is video-based, you will then be guided to self-palpate your knee. This will help determine the areas of pain. From here there could be many different special tests that you will be guided through, to confirm a diagnosis. Evidence has shown the diagnostic accuracy online to be as good as face to face – click here for the article.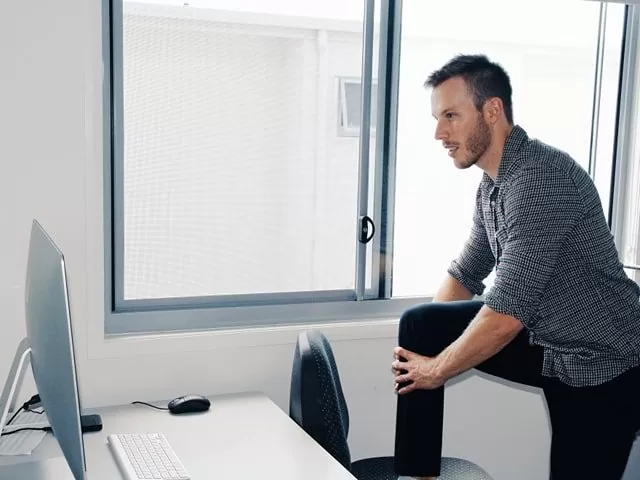 After a diagnosis is confirmed you will have the option to continue with treatment! Your therapist will give a time-frame of how long they expect treatment to take effect. From here you can make the call whether you continue or not!
How is knee pain treated at Click Physiotherapy?
Treatment will often involve very specific advice about how much load to put through the knee, activities to avoid, and strategies for helping the knee recover. You will also be provided with exercises tailored to your condition and sent to your smart phone via our app – physiapp. This app will give you pictures and instructions for exercise, and allows us to track how compliant you are, and what your pain is like. We can also communicate with you through this app and encourage this as our service is not just one appointment, instead it's walking with you through the journey of recovery.
Treatment will often involve a component of manual therapy. Certain techniques will be taught including taping or mobilization so that you can improve the function of your knee. Traditionally these techniques were performed by a therapist, however they are transferable skills that can be easily taught and mastered. For this reason, teaching you has the effect of empowering you to self-manage your knee condition.
Join the club!
After finishing treatment, we invite you to join our Achilles facebook group. In this setting you will be surrounded and encouraged by others who have suffered from knee pain or other musculoskeletal pain. You will have access to ongoing support from our physiotherapists and access to educational content to help continue your journey of being pain-free.